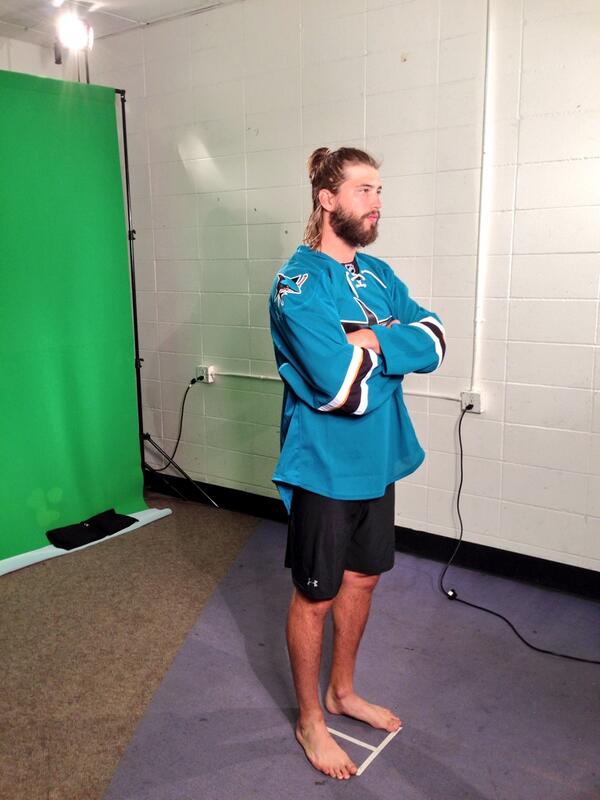 We miss Brent Burns sometimes. The 28 year-old former Wild defenseman (and former defenseman in general) made a major impact during his 7 seasons with the Wild as one of the top offensive defensemen in the league That was enough to be named to Minnesota's all-time team by
CBS' Eye on Hockey Blog
(of course it comes with the major caveat that a
ll-time lists are pointless
for a franchise that is just old enough to have its Bar/Bat Mitzvah)
Still,
Burns was traded during the 2011 NHL Draft
to San Jose for three pieces - including Charlie Coyle, for which we do not miss him - and has evolved for the Sharks into the forward he was initially drafted to be.
He's also evolved into a ninja this year.
The above photo, taken earlier and
posted by San Jose's
social media team, shows the latest evolution into the world that is Brent Burns. He's gone from blonde-haired baby-faced kid to a faux-hawked blue-liner to having sick flow a homeless drifter last year who spent his Lockout avoiding razors.
And now a ponytailed ninja.
Sorry Chewbacca
, there's always next year.
In a related story, teammate James Sheppard has dreamed about being a ninja since he was 3.
--
Follow First Round Bust on Twitter @FRBHockey.