There's a saying in sports, largely associated with the New England Patriots, that it's better to part with a player a year too early rather than a year too late. Minnesota Wild GM Chuck Fletcher ought to keep that in mind next summer as star winger Thomas Vanek likely becomes an unrestricted free agent.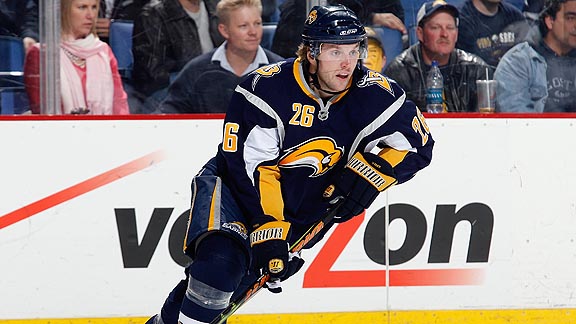 It's widely speculated that the Wild might be interested in signing Vanek if he reaches the market. There's a number of reasons he would be very appealing:
- He's 7th among all skaters in total goals scored since 2005-06
- At 6'2 and 205 pounds, he's got plenty of size
- Played for the University of Minnesota before the NHL (local interest!)
- Friends with Minnesota Wild forward Jason Pominville
Former Minnesota Golden Gopher
Thomas Vanek is 29 years old, meaning he'll be 30 before the start of the 2014-15 season. Many people, including some very intelligent and knowledgeable hockey writers, call that the "prime" of someone's career. But is that the case?
Using the wonderful statistical database at Hockey-Reference.com, I analyzed the top 100 scoring forwards from 1980 through 2013:
As expected, players' careers tend to fall into a classic bell curve pattern, with peak production of goals and points around age 26. At age 30, a player is not at his prime, but actually on the downside and historically getting worse!
With the new CBA, most star players tend to make somewhere in the range of $7-8 million per year on a 7-8 year deal. By age 30, the average player's goal production drops from 85% of peak down to 41% by age 37. Average point production drops from 86% of peak down to 45%. If Vanek was to follow this pattern, we would expect him to score 34 goals next season, then drop down to 16, or an average of 25 per year. He would score 69 points down to 36, averaging 54 points. Certainly not worth that kind of money or commitment.
But the playoffs are another beast, aren't they? We often hear about a veteran player's experience and wisdom. Maybe that is where the real value lies?
I analyzed the top 100 playoff performances from 2005 through 2013:
Not surprisingly, another bell curve emerged, and players under 30 fared better than those over 30. The average age of the players was 27.3. 81 of the 100 players were under age 30. Only one of the top 10 performances was by a player over 30 (Danny Briere, who was recently bought out of the remainder of his contract just three years later).
What this means is that, by the age of 30, your average high end scorer is already past his prime and production is falling. Yet that is typically when he is playing on his most lucrative contract. He is being paid for past production, not for future production.
These statistics reinforce the notion that one should build through the draft, not through free agency. You get the players' best years at a reduced salary. Of course it's possible, maybe even likely, that draft picks won't pan out and 25 goals with 54 points would be a top player for your team. But if that's the case, your team probably isn't very good. See the 2011-12 Minnesota Wild, led by Dany Heatley with 24 goals and 53 points!
Dany Heatley wants his turtleneck back
History shows that the best teams are often led by elite young players. Fletcher has already traded in a potential stud with Johan Larsson for an aging veteran scorer in Jason Pominville. He's already got two more aging veteran scorers with Mikko Koivu and Zach Parise. There's plenty of safe forwards making way too much money in the top six. If the Wild are to be successful, they must have young prospects like Mikael Granlund, Charlie Coyle, Jason Zucker, and Nino Niederreiter leading the way, not another veteran with too much in the bank and not enough in the tank.