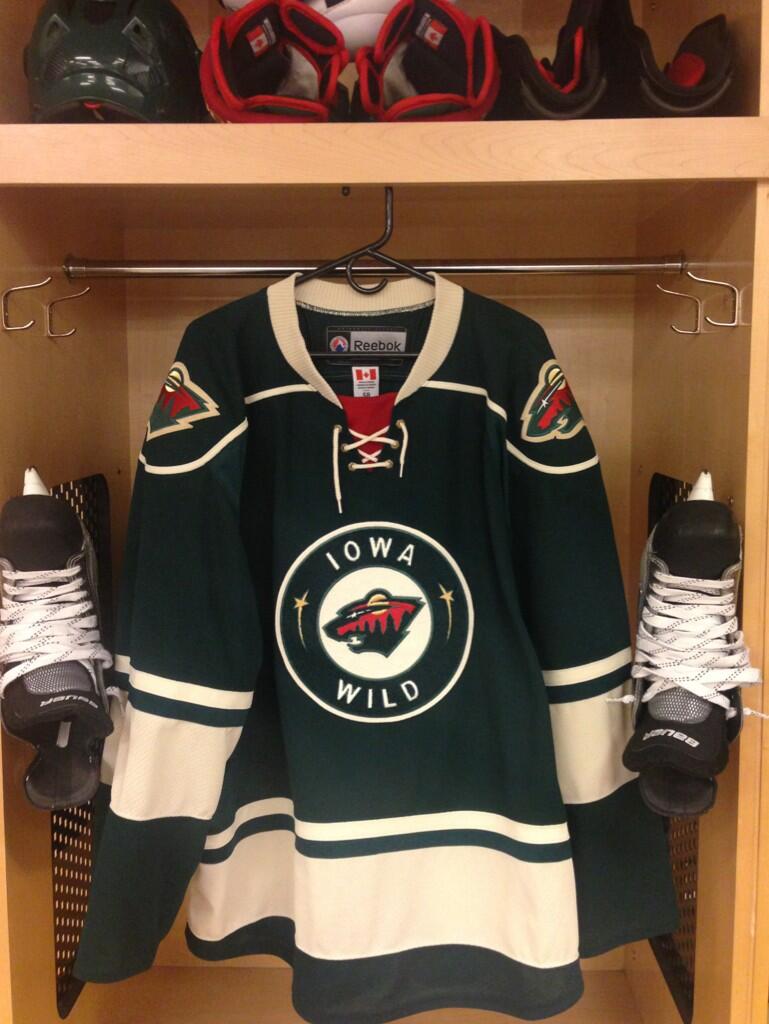 The countdown for Minnesota's new white jersey being unveiled has yet to hit single digits. That hasn't stopped its AHL affiliate from showing off its own new sweater.
The Iowa Wild took one more step in the relocated team's branding as the club unveiled a new green away jersey to the public Wednesday; a night after season ticket holders got a sneak peek. Minnesota's roots run rampant throughout the jersey. From the colors to the Wild head logo on both shoulders, one knows right away which NHL team these players are trying to play their way onto (provided the two teams sharing a name didn't give that away).
In a way it's the sweater equivalent of Nordy. But make no mistake, this green jersey works.
With both the circle logo from Minnesota's red home jersey (that has "Iowa Wild" inside) and the green and cream colors from the third jersey, Iowa combines two Wild branding staples into one new jersey. However, it is still a unique look for the organization.
That same idea - something different yet fits in with the others - is hopefully something Minnesota uses with its white jersey. That
new jersey will be unveiled 11:30 AM CT Sunday, September 1st
at the Minnesota State Fair's FAN Central Building.
Iowa will begin play this fall in Des Moines after relocating from Houston, Texas. The Wild do the preseason right by having just a
single exhibition game
against the Chicago Wolves. Following that, the AHL team opens its inaugural season at the Wells Fargo Center October 12th against a yet-to-be-named opponent.
What are your thoughts on Iowa's jersey? Does it pass muster?
Related:
-
Iowa Wild Looking For A Mascot
-
A Month Until The Minnesota State Fair & A New Jersey
-
Is Minnesota Looking For A New Road Sweater?
Photo Credit: @IAWild
--
Follow First Round Bust on Twitter @FRBHockey. You can also follow Nate on Twitter @gopherstate for Minnesota hockey updates and occasional quips about other states.