Before I blew town Saturday morning for a wedding, I noticed fellow Wild Blogger
Ger Devine
retweeted something from a website called
Admiral's Roundtable
, which is a Milwaukee Admirals (AHL) oriented blog; The Ads are the primary farm team of the Nashville Predators, and are familiar with Minnesota's latest FA signing, Jonathon Blum.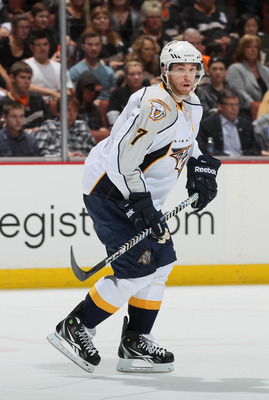 (Getty)
The crux of the post was an interview on the PONDCast Blum had with host Kevin Falness, and when asked about his time in Nashville, Blum was candid.
(This is your cue to make the jump, duh.)
"I'm just thrilled to get a fresh start. Things didn't go as well the last year and a half with the Preds. I wasn't able to play my game there, play on the power play, play more than 14 minutes…whatever I played last year…. So I'm looking to come into camp at the beginning of the year and earn my ice time….and be able to play an offensive game, a puck moving game, and not just focus on being a shutdown guy. When I was in Nashville, I was playing top 4 minutes, playing against teams' best players every night. It doesn't suit my game (kind of indecipherable, but I think he said something to the extent of "I did to the best of my ability")"
The rest of the post was a bit of a hatchet job on Blum, on how he didn't like the role he played because "it didn't suit my game." I can see how someone can look at his comments in that way, particularly how it was conveyed in such candor- I didn't like playing a shutdown role in Top Four minute situations because that's not my strength as a player (he mentioned how he liked moving the puck)- it can seen as being petulant.
Now, full disclosure here- I do not know enough (much less anything, really) about what is asked of the defensemen in Nashville, whether its a systemic thing or not; but in Blum's defense, if he felt that he can succeed elsewhere by fully utilizing his strengths (puck moving ability and offensive instincts) then there shouldn't be a referendum on his opinion (and it may be serendipitous considering he may win a one-way deal via arbitration so he wasn't qualified)- even if it is perceived as petty. Now, it is worth noting that Nashville
struggled
with puck possession; Blum may have been asked to play a shutdown role, but maybe it is more out of necessity than circumstance when the team is getting outshot in close situations.
(I could hazard a guess and say that there is a chance Ryan Suter had his brain picked on the potential signing of Blum; earlier in the interview Blum stated that Suter and his mentorship was one of the reasons why he chose to sign here.)
So based off what we know of Blum, he
played bottom pairing minutes
against secondary competition; although something of note is how much he ended his shifts
in the offensive zone
despite starting roughly 58% of his shifts in the other two zones- when compared to the
cadre of bottom-4 guys
Minnesota trotted out last year, that the puck is moving north at such a drastic rate when Blum on the ice conceivably marks a big upgrade in that regard. There is no doubt this team lacks puck movers on the back end, and even if Blum wins a job and is playing 15 minutes a game (which could be more, since he should push for 2nd unit PP time), just that ability to get the transition game going would be an improvement.
Now, when you look how
Minnesota's Bottom-4
were used, there should be plenty of opportunity for Blum to succeed, especially when you consider how Mike Yeo
used his Centers
; meaning even though he's playing 3rd pairing minutes, there's a chance that Blum could see even strength time with Minnesota's heavy hitters; Mikko Koivu, Zach Parise, and winger du jour.
I haven't seen enough of Blum to have a full grasp on his game; maybe he does struggle defensively and can't body up and does struggle in a shutdown role; but possession drives victory these days- and sometimes the best defense is a good offense, which comes from the ability to get out of your own zone. It can be hard to expose defensive deficiencies when the puck is moving north.