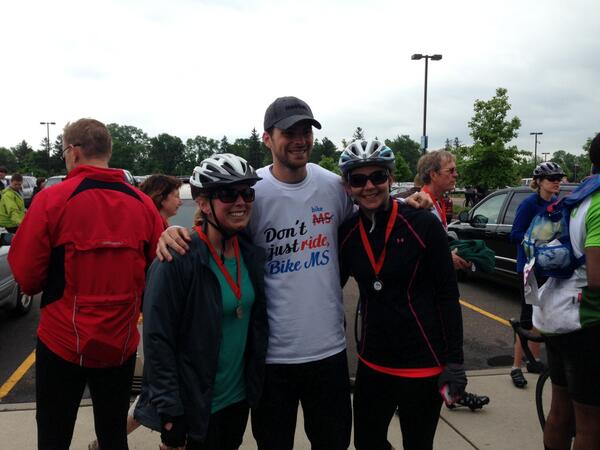 We're a hockey blog. Sometimes that means we take the sport and the players a little too seriously. It happens.
So it is nice to be able to write about two things hockey-related that give back to the world in ways other than passion and entertainment.
Josh Harding (of
Josh Harding... Bill Masterton Trophy nominee
fame) has publicly been going through treatment for MS while continuing to be an NHL goalie. It is safe to say doing both being has been an inspiration to many. Due to that, he has started a multiple sclerosis charity called "Harding's Hope."
The charity is still new but coincided with the
2013 MS 150 bike ride
in Minnesota last weekend. It is one of many rides that raises money to end MS; more than 3,800 riders raised more than $3 million for Bike MS: C.H. Robinson Worldwide MS 150 Ride. Although Harding couldn't be there, teammate and Elk River, MN native Nate Prosser was (see above) to lend support. (Teamwork does not take the offseason off.)
Defending the Blue Line announces charity game August 3rd
Defending the Blue Line announced yesterday that they will be holding a charity game featuring NHL players in Minneapolis on August 3rd at 3 p.m. DTBL has done this before to raise money and awareness for their charity, whose mission is to ensure that children of military members are able to have the opportunity to play hockey by providing free equipment and other financial help. Most notably was one last October that featured Zach Parise (after he signed with the Wild but before playing with them), Keith Ballard, Erik Johnson, Clayton Stoner, Nate Prosser* and many more.
The August charity game will be held at Ridder Arena on the University of Minnesota campus. Players participating and jerseys will be revealed July 1st but the theme is U.S. born NHL players ('MURICA!) vs. Canadian born NHL players.
--
Follow Harding's Hope on Twitter
@HardingsHope
and check out Defending the Blue Line (
@deftheblueline
) at
defendingtheblueline.org
.
For more information on Bike MS events nationwide,
click here
.
You can also follow First Round Bust on Twitter
@FRBHockey
too if that's your thing.
*I swear I'm not Nate Prosser's publicist despite the two positive mentions in one article. Sure he has a great first name and is from Minnesota but...what we were talking about again.
Photo Credit: @HardingsHope