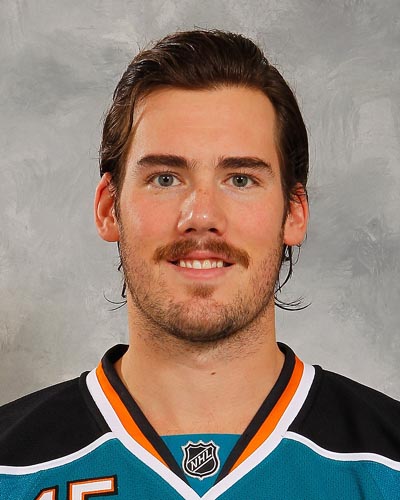 Remember the good ol' days when
Doug Risebrough wouldn't part with 9th overall pick in 2006 Jamse Sheppard for Olli Jokinen
? First Round Bust remembers.
With the second round of the postseason over, the current San Jose Shark forward now has a value...the 81st overall pick in the 2013 NHL Draft.
San Jose was beaten by Los Angeles 4 games to 3 in a WCSF series that saw the home team win all seven games.
Sheppard, who was
traded by Minnesota to San Jose in 2011 for a 2013 3rd round pick
, has recovered from a knee injury that wiped out the better part of two seasons to return to the NHL. The 25 year-old played 43 games for the Sharks this season. That includes 11 postseason games where Sheppard, the Sharks' Masterton nominee, was held pointless. While he hasn't produced on the scoresheet in ways the Wild believed he would when making him a top-10 pick, Sheppard has played a role on San Jose's bottom-six.
Still, the days of James Sheppard being promoted as the next big Minnesota draft pick, skipping a year of juniors to live in Darby Hendrickson's basement, and being off limits for Olli Jokinen are long gone
Minnesota Wild 2013 Draft Picks
1- No Selection
2- 46th overall
3- 70th overall*
3- 81st overall**
4- 107th overall
5- 137th overall
6- 167th overall
7- 197th overall
7-200th overall***
Notes:
1) Minnesota's first round selection (16th overall) was traded
April 3, 2013 to Buffalo along with a 2014 second, Matthew Hackett and Johan Larsson for Jason Pominville
and a 4th round pick in 2014.
3) Minnesota's third round selection (76th overall) was traded
June 27, 2011 to Philadelphia for Darroll Powe
.
*Minnesota
conditionally acquired this pick from New Jersey on February 25, 2012
along with Kurtis Foster, Stephane Veilleux and Washington's 2012 2nd round selection (46th overall) for Marek Zidlicky. The conditions, that New Jersey makes it to the Eastern Conference Finals and Zidlicky plays in 75% of the Devils' games,
were met May 8, 2012
.
**Minnesota acquired this pick from San Jose on August 6, 2011 for James Sheppard.
***Minnesota conditionally acquired this pick from New York Rangers on February 3, 2012 along with Erik Christensen for Casey Wellman. The condition, that Christensen not re-sign with the Wild, was met
June 5, 2012 when he signed with HC Lev
.
Draft picks subject to change. Knowing Wild General Manager Chuck Fletcher's tendencies, they likely will.