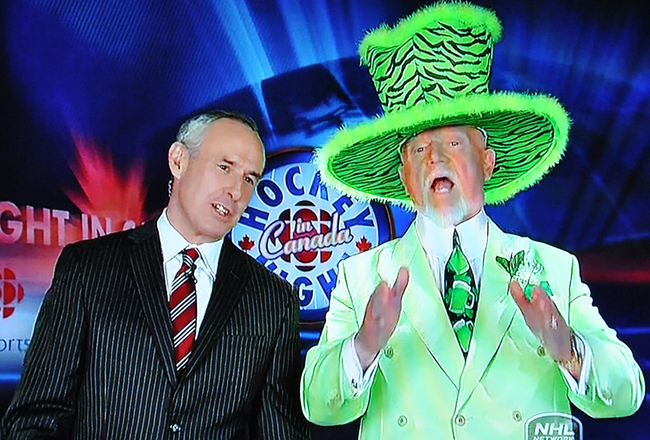 This is getting a little away from talking about the Wild and their prospects, but since Michael Russo's suit blew up my Twitter timeline, I feel like we can quickly discuss it.
One of the more interesting things to happen this year when it comes to Fox Sports North's TV broadcasts (besides
FSN Bingo
, still a work in progress with new announcer Anthony LaPanta) is having the Star Tribune beat writer discuss the team and NHL as an "insider." It's an improvement over the old "Face-Off" standby. As much as we like to watch and discuss the Wild, there are 29 teams out there that exist in ways other than "that team is coming to the X on Wednesday so let's pump their tires."
I'm a fan and all for the segment and anything that puts the Wild's play and moves in context with the rest of the NHL. So it's weird to say the biggest takeaway in tonight's game is fashion advice (and surprisingly not from the Fox Sports North Girls) with Russo appearing to have a gateway suit to Don Cherry's closet.
Some like it, others don't - decide for yourself above. Regardless, Minnesota currently leads Columbus 2-1 after 40 minutes.
(We now break away from not being fashion experts and return to our regularly scheduled hockey coverage.)