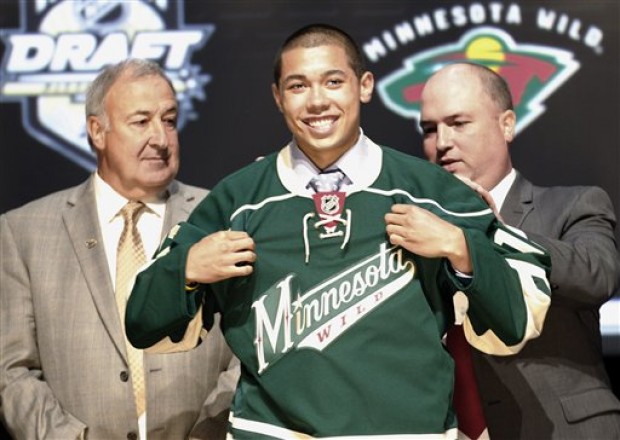 -2012 first round round pick Mathew Dumba has begun the WHL preseason with a scoreless first game but you can read about how Marco Scandella has helped him out in an
interview with Sportsnet
.
-Dumba unfortunately can't be happy with
Hockey's Future
after they came up with their semi-annual top-20 Wild prospects list. Spoiler: he's fourth.
-Wild.com profiled
Zack Phillips and his fishing fixation
. And his on-ice workouts during the summer.
-For those who may or may not have enjoyed last week's "
Becoming Wild
," Thursday's episode
may be the last one
if there is a Lockout. (Star Tribune)
-Mike Max of
WCCO
talks to Wild players about the upcoming Lockout (Video included)
-
KARE 11's Lockout piece
has quotes from Zach Parise and former North Stars GM Lou Nanne.
-Brian Burke says what we all are thinking
about ESPN's hockey coverage
. (Globe and Mail)
-In fairness to ESPN's hockey coverage, this once happened:
-The Minnesota hockey bible,
Lets Play Hockey
, tackles the subject of high school players deciding whether or not to stay on the HS path or go elsewhere. One player covered is Wild prospect (and former Wayzata HS forward) Mario Lucia.
-NBC Sports Net unveils their
24 game college hockey schedule
which features 24 games of teams not from Minnesota (SB Nation)
-Nick Seeler's Nebraska-Omaha Mavericks have the
"dark horse" recruiting class in the WCHA
according to Jasper Kozak-Miller of
Over the Boards
and College Hockey News. The horse in front, of course, is Minnesota. Damn those Gophers look good on paper.
-They might also look good on the new scoreboard at Mariucci Arena.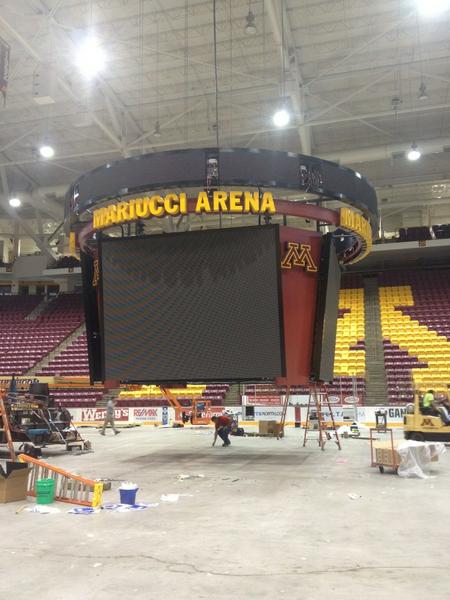 (via
@bradyskjei
)
-It's Gopher football but fans are happy that
TCF Bank Stadium is open for drinking
. (KARE)
-
The Hockey Writers
has Mike Yeo on the Hot Seat for this season.
-Houston Aeros play-by-play voice
Joe O'Donnell talks with David McIntyre
about his prepeartion for the upcoming season and the possibility of a Lockout. (Aeros.com)
Matt Kassian Ridiculous Moment Of The Week (
@kassassination
)
Question:who would win in a fight between a baby dragon and a full grown unicorn?
— Matt Kassian (@kassassination) September 9, 2012
-Eurosport previews
Johan Gustafsson and Daniel Gunnarsson's Lulea team
. Heads up, it's a Swedish article translated into English.
-More Google translate fun:
MTV3.fi
previews the Mikael Granlund-less HIFK as the SM-Liiga season begins. I'll miss these and sentences like, "However, the team was essential pillars such as Toni Söderholm , Ville Peltonen and Kimmo Kuhta."
No I won't. There are plenty of Finnish Granlund stories left in the world.
-
Litter Box Cats
has Casey Wellman as the 19th-best person in the Florida Panthers organization under 25.
-This is why
Bakersfield is no longer Minnesota's ECHL affiliate
. (NHL.com)
Lastly, a couple cheap plugs:
1. The
NAHL Showcase
, which features all 24 teams in the league, began Wednesday in Blaine, MN and goes through Saturday. Not only that but there are 36 other U16 and U18 Tier 1 teams from the NAPHL playing in their first event of the year. Like the Elite League - who will also play games there - it's a chance to get an early look at the future of American hockey and a fix of live hockey.
Tickets are $15 and for those who are not currently residing in the Twin Cities area, all 165 games will be streamed on
FASTHockey.com
. Plus as a bonus I will be calling some games Saturday - the world has been warned.
2. If you're reading this after Thursday morning (Friday at the latest), there's a Gopher hockey preview up on SB Nation Minnesota that I wrote and hopefully did not forget to link. If you're reading this before Thursday morning (Friday at the latest), then get ready for a Gopher hockey preview.
Photo Credit: Keith Srakokic/AP