This year's first round pick can add fighting communism to his hockey resume.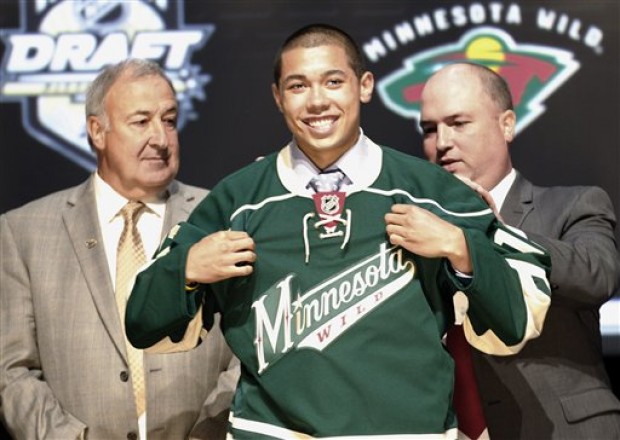 Despite the Cold War being over for twenty years and Russians now playing in the NHL, the 18 and 19 year-olds in Canada and Russia still face each other for hockey bragging rights in the depths of August. That includes Mathew Dumba, Minnesota's 2012 first round pick (7th overall), who played for Canada and was one of 5 of the top 7 picks to be in this edition of the Canada-Russia challenge.
The two countries faced off over the past week in four games (half as long as the fabled Summit Series) with two in Yaroslavl, Russia and two in Halifax, Canada. After the Canadians took the first game 3-2, the Russians won the next two 6-3 and 6-5 before our neighbors to the north took home the
odd-looking trophy
with a 4-2 win (and subsequent tie-breaking OT goal) last night.
The Canada-Russia challenge presented many opportunities for Dumba although he finished the four games scoreless in the three he played. Most players, including Captain Jonathan Huberdeau, sat out at least once and for Matt that was Game 2. While the lack of points is disappointing for an offensive defenseman, there were large stretches where he looked well defensively.
However, it wasn't all perfect. TSN did rip Dumba during Game 3 for his play as he was on the ice during the first two Russian goals.
In the end, these games were a preseason chance for the 18 year-old to have a chance to play with some fellow elite players. He began the challenge on a line with 2012 fifth overall pick Morgan Rielly (Toronto Maple Leafs) and also spent time with 2012 second overall pick Ryan Murray (Columbus Blue Jackets) and Adam Pelech (New York Islanders). There was some chemistry in the first game with Rielly, who scored 4 points in the challenge, and seeing things like that are positive signs as Dumba looks to make Team Canada's World Junior team in December.
Plus defeating the Russians to gain their respect Rocky IV-style isn't bad either.
Photo Credit: Keith Srakokic/AP