There are a lot of good interviews of 2012 Minnesota Wild first round pick Mathew Dumba since the Wild took him with the seventh overall pick and it's fitting to take a look at one to get an idea of what his mindset is. Or how coach-able the 17 year-old is on dealing with the media in Minneapolis compared to Red Deer.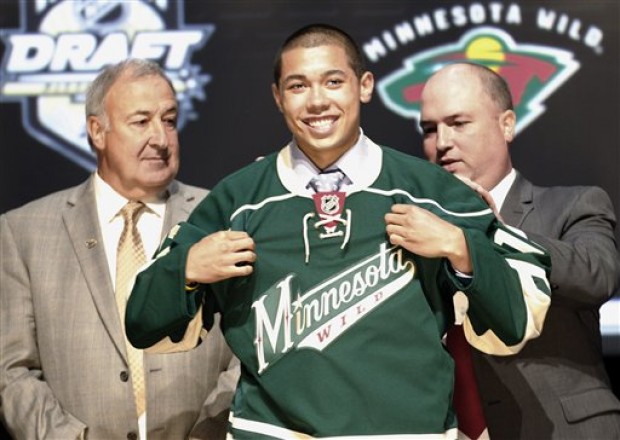 You can say this, Dumba has swag...
The interview I picked was the one he did this morning on
1500 ESPN
with Judd Zulgad and Joe Anderson (aka "Judd and Phunn"). This was for a few reasons. First, the hosts are hockey guys and ask questions that are unique on that end. Second, it's still in the realm of other Dumba interviews conducted by non-hockey guys and not a special case.
For the most part, it's a solid interview and Dumba is more well-spoken in it than anything I would have done at 17. Sure there are some rehearsed and coached answers but that's the way it is these days. Still the non-rehearsed nuggets of information are good and are included in the article on it after the jump.
Friday night was a special one for Dumba and his family. Although he tried to pay attention to the draft lists and needs of other organizations, it was a good surprise and fit with the Wild as the Calgary native told Zulgad and Anderson.
"I kind of had a feeling that (Minnesota) was going to be it. As soon as they said 'Red Deer,' I jumped out of my seat," said Dumba, who has played the last two seasons with the Red Deer Rebels of the Western Hockey League.
Being in the WHL has allowed him to continue to develop and play against the top competition as a 16 and 17 year-old. Matt's taken that chance to embrace the physical game that he grew up with - as a kid, his father told to always finish his checks - and go up against the best players every night even if other teams don't like it.
"Most teams don't," Dumba said. "They get guys coming after you but it's part of the game. I like the challenge of playing against the best players on the ice. I push myself to another level."
He also isn't afraid to drop the gloves, something Minnesota's second round pick, Raphael Bussieres, knows all too well.
"It's funny. Since the (CHL) prospect game we've seen each other a couple times. We kind of chatted about it and talked. No hard feelings on either side, we're just competitors," the Wild first round pick said.
"It was a good fight and Raph's a big boy."
Dumba's competitive nature is something he sees as a strength and impacts the passion he plays with to let the 17 year-old's skills like his skating ability, passing and offensive ability flourish. He still, meanwhile, needs to work on his defensive side like any young defenseman but despite that is competitive enough to want to be playing against the Colorado Avalanche on October 13th.
"It's kind of open," Matt said when asked about next season. "I know for me, talking to Mr. Fletcher and Coach Yeo and Coach (Rick) Wilson on the back end it's open and they want to see me to come in as a competitor as a guy who wants to push for a spot and that's been my mentality the whole time. I want to come in and make a difference from the start. I want to make the team next year."
"At the end of the day it lies in their hands but I'm going to do whatever it takes to be at that level next year."
Whether the 7th overall pick makes the team or goes back to Red Deer (a player drafted out of WHL cannot be sent to Houston until he is either 20 or has played four full seasons in the league), in the end the most important thing for Matt Dumba is that he enjoys himself on the road to being the best.
"Whatever happens with the money or anything else on the business side of it is great and whatnot and I know there have to be decisions made but I'm just going to focus on playing my game and going out there to do whatever it takes for me to be the best in the world someday."
You can listen to the full 1500 ESPN interview here. Make sure to go to June 25th on Judd and Phunn's section and click on Hour 3. Dumba is at the beginning and Zulgad and Anderson give analysis afterward.

Photo Credit: Keith Srakokic/AP