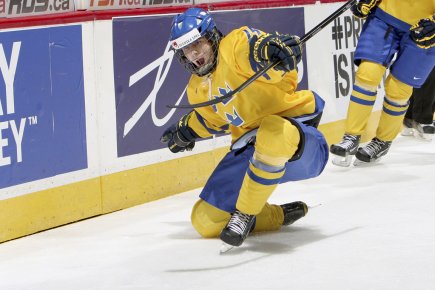 Sebastian Collberg, Right/Left Wing (Right)
Frolunda, Swedish Elite League
2/23/1994 5'11" 175 Pounds
Scouting Report:
Somewhat on the small side, but Collberg is driven and has the ability to be a game breaker...possesses excellent speed and agility...a constant goal scoring threat, whether it is off the wing or in the dirty areas around the net...has an elite shot; seamless release, heavy, accurate...plays a high tempo game, competes hard to finish checks and get after rebounds...possesses a great set of hands, allowing him to stickhandle and maintain possession in traffic...physical impact limited by his lack of size and mass, but doesn't take away from the willingness...played a strictly defensive role for Frolunda, which explains no goals in 41 games- afraid of making mistakes he maintained a purely defensive posture...was knocked for individualistic play at U-18's...concerns about how his size and game will translate to the North American game...more strength will help him win more battles.
Why Collberg at 7?:
Dan:
Well, it all started with a rather innocuous tweet from Mike Russo while he was able to cover the World Junior Championships while on a Western swing with Minnesota- "The Wild like Sebastian Collberg." Collberg was a key piece in Sweden's Gold Medal run in that tournament (not just the filthy shootout goals seen above) and was also got a silver medal at The U-18's as well. So he's well versed in international competition against his peers, but spent the bulk of the season playing against men- something that he shares in common with the previous two 1st round picks, Jonas Brodin and Mikael Granlund. He's fast, he's got hockey sense, he's ultra skilled, he competes, and he has a great attitude from what I've been told as well. In Collberg, Minnesota would have the pure goal scorer that they've lacked since Marian Gaborik; with his goal scoring instincts and elite release, there is no doubt that he'd provide an instant shot of game breaking ability to our Top-6. It's likely that if we did draft him that we wouldn't see him for a year or two- recently at the Draft Combine he told reporters he'll be in Sweden next year instead of coming over and playing Major Junior. That's not the worst thing ever though- it seems to have worked well for Granlund, Brodin, and especially Larsson, who has taken on a much bigger role for his club since his Draft year. The size concerns will always be there with pretty much anyone under six feet tall; but its also my belief that it can be overblown and a bit superficial. If a player is smart and quick enough, they can not only play but thrive as well. When you look at what Minnesota looks for, and where they've played, Collberg fits those criteria to a tee.
Nate:
There shouldn't be a problem with letting Collberg - or really anyone Minnesota takes at #7 - go back and develop for a year or two. Between the pipeline, team and (hopefully) free agency, Chuck Fletcher shouldn't be picking a player for a specific need and even most top-ten picks have room to grow. As for Collberg's play, he stood out at the World Juniors as someone to watch with the Swede's highlight-reel goals and has a knack for the net. While Sebastian was held back in a small defensive role in the SEL (as many youngsters are), he did lead the U20 league in scoring as a 16 year-old. Add in right wing having a low amount of depth in the organization (although a few prospects listed as center could fill the void) after Charlie Coyle and it's no surprise to see a creative scoring winger catch the eye of the Wild.