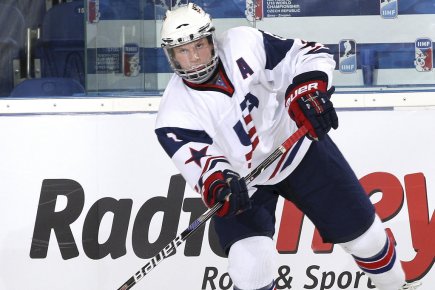 Jacob Trouba, Defenseman (Right)
United States National Team Development Program
2/26/1994 6'2" 191 Pounds
Scouting Report:
Impressive package of aggression and control...willing physical participant, which makes him hard to play against in his own end...fluid and powerful skater, plays with an unreal amount of poise...routinely makes correct decisions with the puck on his stick...makes an excellent first pass, and has the vision to connect on passes of all lengths...more of a first-pass player out of his own end, but has the ability to rush the puck up the ice...can be overzealous at times with his physical play, but will drop the gloves...very competitive player...possesses a heavy and accurate shot, making him a very effective triggerman...very tough player to beat along the boards...holds the blueline effectively and forces opponents to chip the puck in deep...very sturdy skater, making him not only hard to knock off the puck, but also gives him an advantage in winning leverage battles...shows very good ability to maintain gap control...offensive upside is questionable, as he doesn't possess high end creativity.
Isolation Video of Trouba, courtesy of Reel Hockey Scouting
Why Trouba at 7?:
Dan:
I'll freely admit I'm a fan of Jacob Trouba, but inherent bias aside, he has the same qualities that Minnesota has looked for in the defensemen they have taken- guys who can move the puck, defend well, and play a competitive game. Trouba can do all of that, and add a physical element that Jonas Brodin doesn't currently possess. I did an
interview with Derek Zona of The Copper and Blue
in which we talked about Trouba, and one of the things we talked about was a stylistic comparison. I see alot of Brent Seabrook in Trouba, as in he can be a #1 guy in weak to mediocre teams, but ideally he's a really high end #2 D. However, even if he doesn't reach that, I believe he can still be a really tough match up guy, similar to Nick Schultz- a guy you can count on to play "tough" minutes against other teams' top players. Trouba's no stranger to international competitions- he opened eyes at this year's World Junior Championships as a 17 year old playing in a predominantly 19 to 20 year old tournament, and was one of the key cogs in the US winning the Gold Medal at the U-18 Championships this Spring, although he played more of a support role to Seth Jones, who you will hear about ad nauseum as soon as this year's edition of the Entry Draft is over. Maybe most importantly about Trouba is his character- being a Michigan native, which is in the heart of Ontario Hockey League territory, he's
maintained that he will remain a Michigan commit,
despite the high-profile Kitchener Rangers owning his rights, and will likely continue to pursue him. In an age where the norm is hearing about players breaking their collegiate commitments to head to Major Junior, its an admirable stance- and it will be an excellent developmental environment for Trouba, where he'll play against older and stronger competition on the weekends, while having plenty of practice time to refine his skills during the week. Ultimately, I think Trouba makes a ton of sense at #7.
Nate:
I have to agree with Dan that Jacob Trouba makes sense for the Wild to pick at #7 if he's around. Trouba may be the most defensive of the blue liners who are hovering around the 5-10 spots but he brings a physical style unlike anyone in the Minnesota system. It's a major reason why Chuck Fletcher took three seconds to re-sign Clayton Stoner.
At the same time, Trouba's size, ability to make the first pass and skating make him desirable with three aspects that the team has coveted since Brent Flahr took over the board. It's not a reach by any stretch of the imagination and I wouldn't be surprised to see someone take him off the board before Minnesota. Throw in the ability to let him develop in college, playing against the best 20 year-old hockey players in the world and holding his own last December and it's tough to find faults from both a player and organization standpoint. The only negatives are that Trouba doesn't have the same high-end ceiling as other prospects who could be around #7 and after 2 top-ten D blue liners in two years (Jonas Brodin) there still wouldn't be a true offensive defenseman in the system. That and
he's not from Minnesota
(sorry HF).
P
hoto courtesy of La Presse