With Luke Salazar's Overtime goal Sunday at Magness Arena in Denver, Colorado (in a game that wasn't televised, so did it even ever happen?) the loss for The Wisconsin Badgers meant not only that their season is likely over. No Final Five, no NCAA tournament, and the curtain has likely been closed on the distinguised WCHA career of Defenseman Justin Schultz.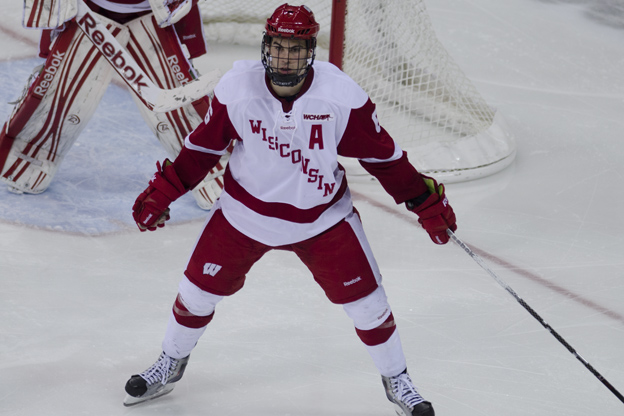 Photo Courtesy of Mark Kauzlarich/The Daily Cardinal
Schultz, if you've been living under a rock for the last few years, is arguably the best defenseman in the NCAA, and maybe the best player overall. The 2nd Round pick of Anaheim in 2008 will likely make the jump to the pro level, if not the NHL now that his Badger sweater has come off for the last time.
The logical progression was that he would sign with Anaheim and possibly make his NHL debut this year-
Anaheim General Manager Bob Murray intimated
that they'd be willing to burn a year of Schultz' Entry-Level Contract (which would be just two years long due to his age, which is 22) as long as they got him signed.
But
what if they don't get him signed?
As friend of the blog Chuck Schwartz so finely details in that post, Schultz holds all the leverage thanks to a CBA loophole that allowed Blake Wheeler, Blake Kessel, Jason Gregoire, and Billy Sweatt to essentially hand pick their preferred place to play. Now, this is all conjecture; there is no deadline, and conceivably Schultz could return to school for his senior season, although it doesn't make any sense developmentally, or financially for that matter. For anyone whose lived off the cheap beer and ramen diet, an $87,500 signing bonus is pretty tempting.
And you can bet your ass that every team in the NHL, even the possibly-eschewed Ducks, will be hot to trot for Schultz' services. Minnesota shouldn't be any different.
While one hell of a sales job would be needed to convince that Minnesota, despite winning just nine times in nearly three months (a sentence that makes me shudder just writing it) is the best place for young Mr. Schultz- but young Mr. Schultz is EXACTLY the type of defenseman this team sorely lacks. A good sized, mobile defender capable of controlling play and creating a really good amount of offensive production. (God knows our power play could use him.)
Having seen him live four times this year, he was simply a dominant player- someone the opposing team had to account for every shift.
And if the cards shake out a certain way, Chuck Fletcher and his Merry Band of Hooligans have a shot at landing a high-end, blue chip player FOR FREE- no assets going to Anaheim, nothing but the exchange of handshakes and some of Craig Leipold's cash being wired into Schultz' account at Wells Fargo, or wherever he banks.
No doubt this is a situation worth keeping an eye on, as you can bet the brain wizards on Kellogg are doing the same.