In furthering our effort to be a Minnesota Wild blog that discusses everything not pertaining to the Minnesota Wild (in fairness, we're not alone - our friends at
Hockey Wilderness
and
Hitting the Post
have also gotten in on the Minnesota High School and North Stars action, respectively), here's yet another update on the Patron Saint of First Round Bust...even though he was traded by the Wild to the San Jose Sharks back in August.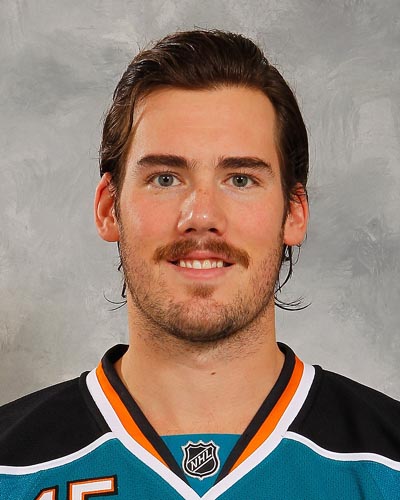 Sharks F James Sheppard (photo from NHL.com)
Lets be honest, it's either this or discussing whether Kevin Gorg or Mike Greenlay are now third on the goalie depth chart. On second thought, that would be a good "Face Off" topic...
Ten days ago,
James Sheppard returned to action
after eighteen months of rehabbing a knee injury from an ATV accident. The 9th overall selection by Minnesota in 2006 was assigned by San Jose to their AHL affiliate Worcester for conditioning and played his first four minor league games.
Sheppard was held scoreless but went +1 for the Sharks with 2 penalty minutes. He did, however,
set a screen on Providence goalie Adam Courchaine
that allowed for Worcester to score. Because of that and (more likely) the fact that conditioning stats can only last 14 days, San Jose
called James up to the active roster
earlier today.
So ladies and gentlemen, getcha popcorn ready...James Sheppard is back in the NHL.
3/11 UPDATE:
Hold your hats. Per a report by
CSN Bay Area insider Kevin Kurz
, Sheppard will not be activated this season because San Jose worries they will lose him on waivers.
According to Sharks general manager Doug Wilson, Sheppard is "80 to 90 percent there" in terms of his recovery from a devastating left knee injury. When the club acquired Sheppard from the Minnesota for a 2013 third round pick in August, it knew that Sheppard's rehab would be lengthy, and there was a strong possibility he would not play any NHL games this season.

"We understood the medical side, and were willing to put the time into it," Wilson said, adding that Sheppard is "right on track" with where they expected him to be, medically.