Initially this was something we wanted to add as an update to our
Charlie Coyle signing a NHL entry-level contract post
, but with that post being buried down the page (look at who has been productive lately!) it deserves a better fate.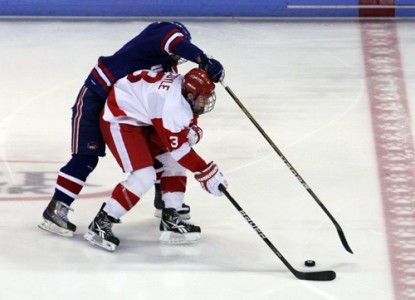 Charlie Coyle (photo by Michael Cuomo)
A couple months after the CHL/NCAA hubbub of Coyle's departure seemingly died down, it's come back up with comments Boston University head coach Jack Parker made after the former Terrier signed a NHL contract.
More on Parker's comments after the jump...
From the
Boston Hockey Blog
, which covers the Terriers for the Boston Daily Free Press:
"I haven't kept up with him at all," Parker, a coach that keeps in touch with many of his former players, said. "I would presume he would be able to score easier in that league against 16- or 17-year-olds."

Back when the then-sophomore chose to leave BU, Parker called Coyle's move "a less than lateral move" and noted that "it would have been better for us and maybe better for him if he had decided to leave at the end of last season."

Coyle's point totals in the QMJHL, Parker said, are more indicative of the quality of play in the QMJHL as compared to the NCAA rather than as a reflection of Coyle's skill.

"The quality of play can be shown by somebody that you see come here and barely gets a point and then he goes up there and gets 20," Parker said Thursday. "It's a lot easier and it's not as good a competition. Charlie was an 18-year-old as a freshman and a 19-year-old here and playing 22-, 23-, 24- and sometimes 25-year-olds. Now he is a 19-year-old playing against 17-year-olds. There is no way that's as good for him. But it looks better on his stat sheet."
Honestly, none of these comments from Parker come as a surprise. Coyle's mid-season departure to join Saint John was anything but amicable and although Boston University has their own issues (former Terriers Corey Trivino and Max Nicastro are facing criminal charges for sexual assault), it would be a shock for the head coach to not have his team's back.
The fact is that any coach is going to think they do a better job and Parker has good points. Boston University is one of the top collegiate teams in the country that develops NHL talent on a yearly basis. Guys like Colin Wilson or Kevin Shattenkirk seem to be doing fine in the top professional league in the world after playing against older competition.
He's also right that the 20 year-old Coyle should be dominating against younger players. I'm more impressed with someone like Jason Zucker scoring almost 1.5 PPG against collegiate players than Coyle's 1.5 PPG in the Q for that reason.
However, that's not to say First Round Bust's second-ranked prospect is regressing playing with Saint John. Coyle is able to focus on different attributes of his game playing on a team that doesn't rely on him. He didn't make the best decision (or the Wild for that matter) on
how he left BU
but as much as CHL zealots want to make this a victory for how bad college hockey is, the same is true the other way around.
College or major junior, Jack Parker or Saint John, the onus is on one person - Charlie Coyle - to prove Chuck Fletcher right in that he deserves a NHL contract and a spot on the Minnesota Wild.