And now we say goodbye to the last of a dying breed.
A couple hours after Wild General Manager
traded longtime defenseman Nick Schultz
to Edmonton for Tom Gilbert, the final veteran defenseman, Greg Zanon, found himself
shipping off to Boston
in exchange for prospect Steve Kampfer.
According to Hockey's Future, Kampfer was the Bruins'
seventh-best prospect
. Although he is not the second-round pick that for some reason got tossed around when discussing Zanon's worth, Minnesota fans could be more pleased with this return than any other trade.
More on the Zanon trade after the jump.
Steve Kampfer is a 23 year-old former Michigan Wolverine who stands at 5'11", 197 lbs. He was drafted by Anaheim in 2007 - a year after Fletcher left that organization to join the Penguins - and traded to Boston for a conditional fourth-round pick in 2010. Since then he's struggled to crack the deep Bruins lineup and was a Black Ace during their Stanley Cup run last season.
From friend of First Round Bust
Kirk Luedeke
:
Good skater, can carry the puck effectively + gain o-zone on his own. Undersized so has trouble w big, strong wingers.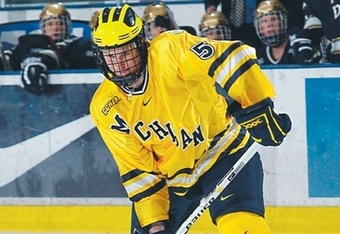 Kampfer is a defenseman that fits in the Brian Burke/Fletcher mold so it's no surprise to see Minnesota trade for him. He brings offensive ability, a trait the Wild need in spades on the blue line, and at times can be a fourth forward. That's something Greg Zanon does not have as the latest veteran Wild defenseman who didn't fit in Mike Yeo's system (actually none of them did - anyone else slightly disturbed by that?). He is an unrestricted free agent at the end of the season and by all appearances had no incentive to re-sign with Minnesota so getting back something is better than nothing.
For Boston, this trade makes sense because they need a veteran presence who can concentrate on defense. At his best, Zanon is a great 3rd pairing, shot-blocking defensemen. That's why Fletcher made him his first free agent signing and why Zanon's best season with the Wild came in 2009-2010 when their top four was Kim Johnsson, Brent Burns, Marek Zidlicky and Nick Schultz. Good teams need that grit and with the Bruins Zanon can block shots and do just that.
As far as money goes, the Wild end up saving the extra $500K they are paying Tom Gilbert and then some. Zanon was making $2.1M this year in the final year of a three-year, $5.8M contract. Kampfer, on the other hand, is still on his entry-level contract and makes about $650K if he's up with Minnesota. Right now it appears the
Wild will let him play in Houston
but as one of many young defensemen fighting for a few spots, Kampfer will be given a chance in the organization.
The only issue with this trade that I have is that it will be a high-risk, high-reward deal. Kampfer has the tools and ability to succeed in the NHL but he has not proven that he can stay healthy for an entire season. While at Michigan, Wolverine football player
Mike Milano assaulted him
and Steve missed half a season with a head injury. He suffered another concussion a couple seasons ago and a third would derail Kampfer's career. He also had a knee injury that took him out of the Bruins' postseason run. If he can stay healthy, however, he has more talent than most of the defensemen in the Wild prospect pool (other than Brodin and possibly Scandella, the rest of the pool are 4th/5th defensemen).
Overall, this is a trade that could pay off better than the Schultz/Gilbert or Zidlicky deals. I like the fact Chuck Fletcher is bringing in as many D as possible to see who has a future because this organization needs to find pieces that blossom in the Mike Yeo system. Although there are no guarantees that Steven Kampfer will be the answer, he fits better than the unrestricted free agent going in the other direction.