This would be a game changer.
Four days after Boston University forward Corey Trivino was
removed from the team
due to being arrested, fellow linemate and Minnesota Wild prospect Charlie Coyle has left the Terriers. Nothing would take place until after the World Junior Championships, which run from December 26 to January 5, as Coyle is a lock to make the United States' team.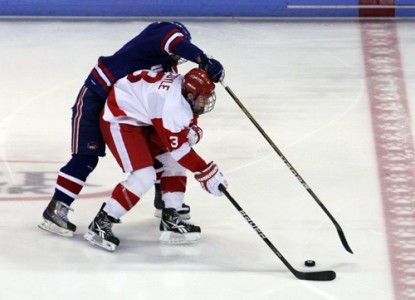 Boston University Forward Charlie Coyle (Photo from Michael Cummo)
From
College Hockey News
, who first reported the story:
Sources told College Hockey News on Thursday that Coyle has had ongoing academic issues and was in danger of being ruled academically ineligible for the second semester.
First Round Bust's
#2 Minnesota Wild prospect
was acquired by the team in the Brent Burns trade along with Devin Setoguchi and the 28th overall pick (which became Zack Phillips). Coyle had 14 points this season, which was tied for third with Boston University after being named the Hockey East Rookie of the Year last year.
What makes this move even more interesting is that Coyle's CHL rights are owned by Saint John, who Phillips plays for. Although he could sign with the Wild and play for the Houston Aeros despite being under 20 - Coyle was not drafted out of the CHL - the US Hockey Report (which is behind a paywall) has him signing with the Sea Dogs and could make for a lethal Wild prospect pair with Phillips. Either way, it becomes another devastating blow for Boston University who have now lost 31 points of scoring between Trivino and Coyle and have a team upset at Coach Jack Parker's handling of Trivino's arrest.
UPDATE:
According to
Mike McMahon
of the Eagle Tribune, one the best college hockey writers in Boston, Coyle has chosen to play with Saint John. Minnesota General Manager Chuck Fletcher would have been fine with either Saint John or Houston as the next destination, but Charlie ended up choosing the Sea Dogs.
This has also been
confirmed
by Michael Russo.
UPDATE II (2:30 PM):
In a text to the
Boston Hockey Blog
, Coyle stated that "yes I have made my decision to leave BU because I'm done with being a student-athlete and I want to focus on just hockey. I was not failing out." The last part would go against the rumors that Coyle was going to be ruled academically ineligible.