So much symbolism. Or "s mch symblsm.
"
I don't like to get too personal with these blog posts or opinion pieces because it has nothing to do with prospects or the Minnesota Wild but it's going to happen once again. Saturday was my 25th birthday and for me the end of an era which began in college. Sure there are some great incentives like a lower car insurance rate but from this point on those days of being able to live off of HS, college and that awkward post-college period are over.
So with that, it is very fitting that on Saturday night Wild General Manager Chuck Fletcher traded the Patron Saint of First Round Bust James Sheppard to our new BFF San Jose for a third-round pick in 2013. For as much grief as Wild fans have given Shep, this is much for the best. Besides joining the other half of last year's team with the Sharks (seriously this is starting to
feel like 1991
all over again), James needed a new start and he wasn't getting it here. Once the golden child, Sheppard was the ninth overall pick in 2006 but in 2011 it's just a stat and the Wild have had six first round picks since then.
While no one can disagree with the trade - and in some cases actively celebrate the haul - my Sheppard memories are mixed. It's great to look back on those funny memories but all ATV and "I've been playing since I was 3" jokes aside, the case of James Sheppard is quite sad. Here's a guy who was slated to be a top ten selection and made the NHL at 19 yet was touted as the next golden child despite not being treated as one. Scoring 96 points in the QJMHL their draft year is no easy feat (in fact fans are celebrating spending a late first round selection this year on a
player who scored 95
) but it doesn't guarantee success. For whatever reason, that point never came across because at times Sheppard didn't appear ready for the NHL.
There's nothing with being a top-ten pick not playing in the NHL as a teenager. If there is then I'd hate to imagine how much better Mikko Koivu or Nicklas Backstrom would be. Shep didn't sit as much as the next first round pick brought up early (Colton Gillies) he was horribly developed.
While having top players play up instead of in the CHL worked for the Wild early, it worked because they were playing for the future (and in one case making an underdog run for the present). 2007-2008 was a year where Minnesota was looking to make a Stanley Cup run and developing the future took a backseat. There's nothing wrong with that because it should be the end result of any organization's five year plan but for a team in that mode priorities change and the Wild did not make the proper adjustments with Sheppard.
Maybe things would have been different with Minnesota if they had James spend that year with Cape Breton but we'll never know. Regardless, he missed out on a crucial development year. By the time it was apparent that the "
young future stud
" was so untouchable that the team wouldn't part with him for Olli Jokinen, it was too late: he was making popcorn in the press box on a regular occasion and excuses on the ice.
In life you take the good and the bad and try to learn from it. It's all you can do. That's what the team and its management group is doing and it is what I do every day as someone entering a new phase of their life. The case of James Sheppard is one of missed opportunity and growth; it doesn't matter what one does in the past if they do not continue to develop and mature. Yesterday's ninth overall pick golden child is today's ATV injured, scorer of six points in a season and butt of many jokes. But the good news is that guy can be something else tomorrow and a benefit to another hockey team. Just ask this guy.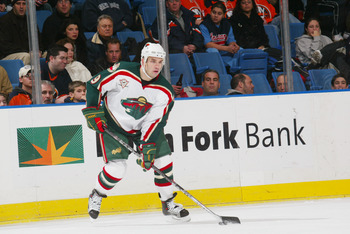 Thanks for the memories Shep and don't be a stranger.
Seriously please don't. Between the Risebrough era officially ending this summer and now you being gone, we are without a muse now.